Easy Peasy Form packages are not all created equal and it's something that you'll need to be aware of.
The limits are dependent on the subscription that you have chosen.  Limits include number of forms, submissions, users and file upload storage. Here's how it works
Number of Forms
Each account has a limit on how many forms a user can create. For example, the Starter Package will allow up to 2 Forms, while Enterprise package allow up to 1000 Forms.
Submissions
Submissions are counted per form.  You will be happy to hear that our packages allow unlimited entries against each Form. The only starter package is limited to 5000 entries per Form.
Users
Easy Peasy Forms allow you to create Sub-user as shown in the following Figure.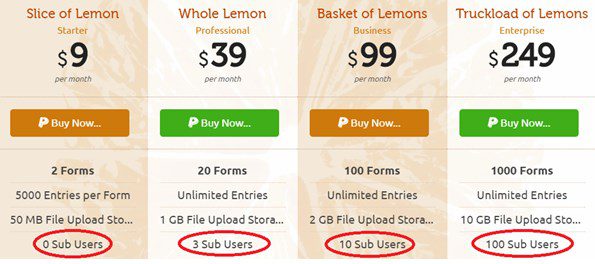 File Upload Storage
Easy Peasy Forms have a limit to the amount of file uploads collected in submissions.
 
You will receive an email when you are nearing the limit. The file upload will be disabled on the Form once it reaches the data storage limit.